The new version of VERSION has a higher number of views and even more engagement. Filmmakers are submitting their work for the film festival to be held in New York on October 5th, which will have over 50 films from all around the world.
VERSION v3.0 is a hit with 25K VIEWS…time for FILM FESTIVALS! –
The film festival industry was in the midst of its biggest year in decades, and that meant it was time to celebrate. The "film festivals 2021" is a celebratory blog post on what the future holds for the film festival industry.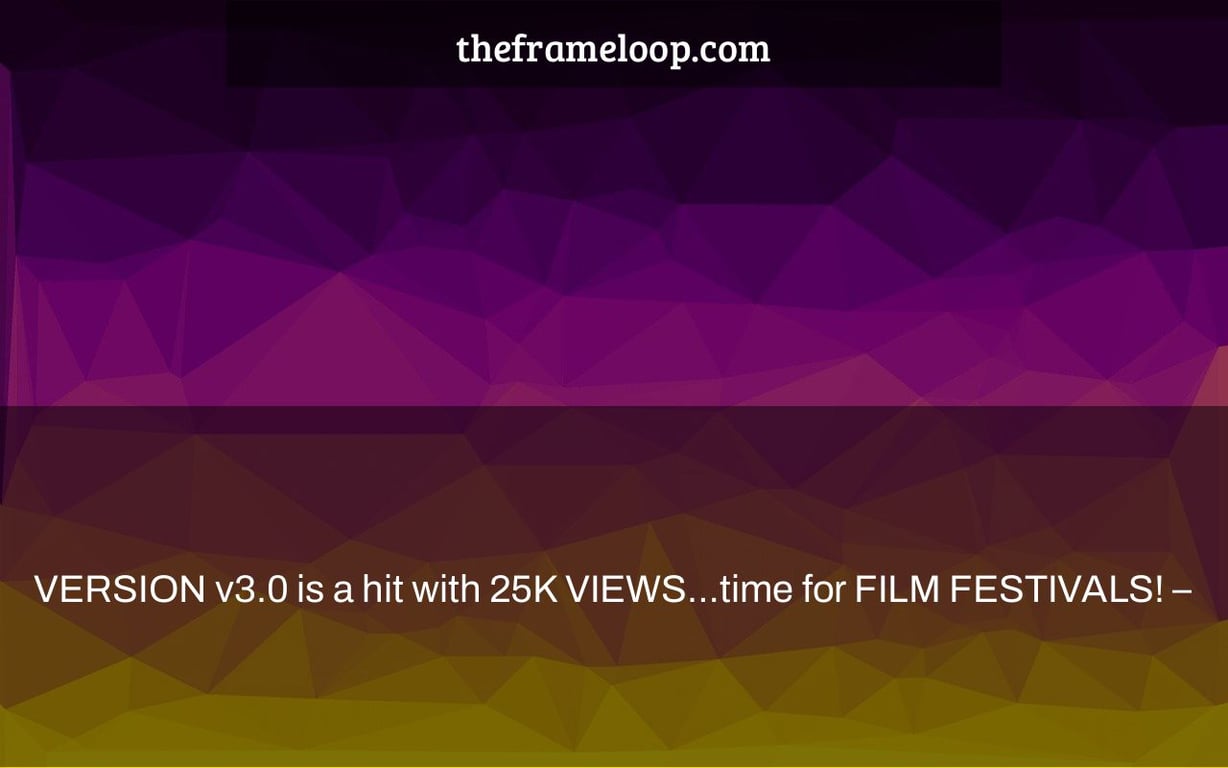 It's been a week since we released INTERLUDE 3, our third version, and the feedback has been overwhelmingly positive. On YouTube, the video has already received over 25K views, 1.7K likes, and over 200 comments. Here's an example of what I'm talking about:
It's Star Trek all over again! It's fantastic!
This is how a pre-Kirk prequel is made. I've made my case.
It's incredible. There's also some fantastic music.
This is fantastic.
ADDITIONALLY, ADDITIONALLY, ADDITIONALLY!!!
Outstanding!
Bless you everyone, this is true STAR TREK!
Okay, that was fantastic!! While we wait for the main meal, we may have a tasty appetizer.
Awsome! Your deflector shields are superior than those shown on television.
Roddenberry would be ecstatic!
This is a disaster.
Oops, that last one got in there by accident. Actually, I included it since it was the ONLY bad response we'd gotten in the first six days out of the hundreds we'd received. We've already received two unfavorable responses.
What JOSHUA IRWIN and I have found most surprising is how rapidly the views have risen, especially given that the prior versions have already surpassed 200K views across the AVALON UNIVERSE and AXANAR YouTube channels. Obviously, with 108K subscribers, 25K views in the first week is acceptable on the Axanar channel. However, version 3.0 is currently only available on the Avalon channel… There are just 13.7K subscribers on that one.
So, right now, Interlude v3.0 has TWICE the number of views as Avalon!
"I recently saw Interlude for the first time," a donor said. Excellent job all around! It will undoubtedly be something I return to see again."
Wait, this is the FIRST time? He did, however, give! I inquired as to why he had not seen Interlude when it initially came out in April. He never got around to it, and when I issued an e-mail update to my donors about the release of v3.0, he chose to view it right then and then during his lunch break.
Anyway, I just wanted to let you know about a couple things. The first is that I've begun submitting Interlude to film festivals for the first time. I narrowly missed the deadline for the yearly IndieBOOM! festival, which was one of the first and only contests to include a category dedicated just to Fan Films. Interlude is now an OFFICIAL SELECTION for IndieBOOM, as of yesterday! (We'll have more on it in January!) Then I decided to try my luck in the Los Angeles Sci-Fi and Horror Festival, which has a Fan Film category.
Good luck to us!
I've also updated our Interlude IMDb page, which now includes a slew of new promotional and behind-the-scenes photographs. I also needed to make a new digital poster for Interlude since the only picture I could use on IMDb earlier was something comparable to the horizontal thumbnail at the top of my site. The issue is that IMDb is only set up for vertical movie posters. So, let's see… I went to a school for graphic design. It wasn't difficult to create a vertical movie poster. Take a look…
Last but not least, I was instructed that I needed to build a project page on FilmFreeway.com in order to prepare for film festivals. Filling in all of the fields took some time, but in the end, I came up with something that looks pretty cool. Take a look at it…
https://filmfreeway.com/Interlude-AStarTrekFanFilm
It's a lot easier to enter Interlude in contests now that we have this project website. It has a synopsis, cast and crew credits, media connections, on-set images, and even a link to the original comic book version of Interlude. To top it off, the website includes the trailer as well as the film itself. And, hey, if you haven't watched the most recent version yet, or just want to watch it again, here it is…
Finally, here are two late-breaking news items. Our costume consultant, CLAUDE FRANCIS DOZIRE (who resides in Italy), sent me this link to an Italian sci-fi/fantasy website's coverage of Interlude. For those who don't speak Italian (like me), there's an English translation option in the top right.
Interlude has gained recent media attention from "Pranakasha" MATT WEISS, a newcomer to the world of Star Trek fan fiction who also has a regular podcast with over 12K followers on his YouTube channel. (My channel, on the other hand, has 532 subscribers, but I don't do anything to market it.) Anyway, Matt just friended me on Facebook a few weeks ago, but we immediately started conversing, and he's a pretty cool guy. I'll surely be covering his EGOTASTIC TREK spoof fan series in the coming months. But then he asked if I'd want to be interviewed on his podcast out of the blue. "Of course," I said. "Can you tell me when you'd want to do it?"
When your in-laws are coming for a Christmas visit in a few days, that's hardly the most practical thing to ask. "Well, I could do it this afternoon," Matt responded after realizing that no day would be available until after New Years. So there I was, just a week after meeting for the first time, on Matt's newest show. But then things started to get a bit out of hand! Following that, two sci-fi nerds went off on infinite tangents!!! Sure, we spoke about Interlude (at some point), Axanar and the lawsuit, meeting GENE RODDENBERRY, and I scream about how Star Trek: Discovery isn't woke, among other things. We'd been talking for about THREE HOURS before I realized it!
You'll win something if you can make it through the full episode…
Watch This Video-
Related Tags
sundance film festival 2020
sundance movies 2021